Event 1. Slot Machine
The abundant Slot Machine will coming again! If only you recharge 300G every time, you can get one ticket to draw one time. But it is important to note that there are no any free tickets in this slot machine.
Brand-new Reborn Card Z.Liao-Reborn, and God X.H.Dun come here now. What's more, the purple arm pieces from God Lu Bu, God X.H.Dun, God Z.G.Liang, God D.Chan and Box named Monarch Present smile on you! so what are you wait for , hurry up to join our the wonderful slot machine event! Come on!
Time: Jan.10th - Jan.11th (GMT+8)
Server: S1 - S107
Details:
During the event time, player above Lv. 70 will get one ticket every time recharging 300G. The ticket can be used in Slot Machine to draw and win the corresponding rewards. Please click to claim before start the next draw.
Join - Click 'Events' and join Slot Machine.
Ticket- When you recharged 300G, one ticket will be sent to you automatically.
Draw- Use one ticket to spin once.
Claim- Claim the corresponding rewards.
1 unused ticket = 500K Food
Items: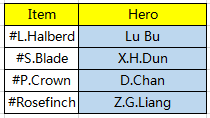 Monarch Present:
Notes:
1. There are no any free tickets at anytime for players spin the slot machine every day.
2. Lv. 70 is required to join this event.
3. Tickets are sent to your account automatically. When the event ends, each unused ticket will be converted into 500K Food and added to your account.
4. When event ends, unclaimed reward will be converted into 500K food and sent to you.
Event 2. Recharge for Bonus
Dear players,
Now we have prepared Brand-new Recharge bonus for you: You can gain much more resources such as G.Soul, M.Soul and Voucher. when you reach the related position.Players can gain them to your heart content. What are you waiting for?
Event. Recharge for Bonus (Reset everyday)
Time: Jan.10th 00:00 - 23:59 (GMT+8)
Jan.11th 00:00 - 23:59 (GMT+8)
Server: S1 - S107
Rewards:
Hersbit Bag2: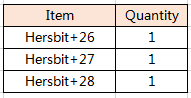 Spirit Box2:
Notes:
1.You can only claim once in this event.
2.The event will reset everyday( totally last for 2 days)..
3.Please do not recharge at the end of the event.
4.Before you claim the rewards,please make sure your bag has extra space or you will lose the rewards.