Big Surprise! C.W.Ji, Z.Ji A.Fragment and Slotted are at Mall!
2017-01-11    From:Clash of Three Kingdoms
Event 1. Exchange for Resources at Mall!
In these event, you could get many wonderful resources through using bond. You will get 1 bond once recharging 100 Gold. Hurry up to join!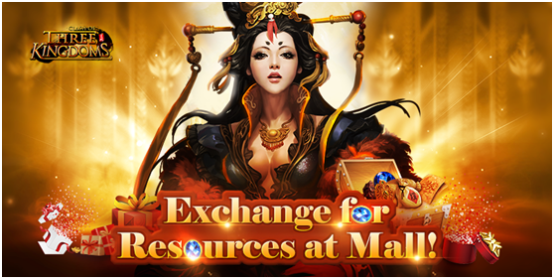 Time:
Update completed - Jan.16th (GMT+8)
Details:
During the event, players above Lv. 30 could get 1 bond once recharging 100 Gold. The bond can be exchanged for
C.W.Ji card, Z.Ji A.Fragment, Slotted, Iron, and other resources
at Mall! Do not forget to join it!
Notes:
1.
Lv. 30
is required to join this event.
2. Click 'events' to find Mall.
3. Some resources has limited number of exchange times.
4. Please use up all your bonds before the event ends. When the event is over, bonds unused will be transferred into resources and sent to you automatically.
1 Bond = RO*10.